Help spread Candi worldwide! Join the Candi Street Team!
What do you have to do?
Help advertise Candi!
How?
There are several ways!


Post a Candi banner on your site or blog.
Mention Candi at message boards you hang out in.
Or you can post Candi flyers around your neighborhood.
What's in it for you? If you post a Candi flyer in your neighborhood or local hangout, I'll send you a free Candi button (or sticker) and a sketch! (While supplies last!) To get the swag, follow the flyer directions below, and then take a picture of the place where you posted the flyer (these pics will go on a special Candi around the world site). Email me the picture and your mailing address so I can send you the button!
If you click on the images below, you can download .PDF files of the Candi Posters. These are pretty big files, so if you are dial up, don't worry if it takes awhile.
Once you download, if you don't already have a .PDF viewer, you can download one from Adobe by clicking this link. Once you open the file, you can easily print them, they are "letter" size, 8.5 x 11. If you want to post up more than one flyer it may be better to print one with your printer, then make copies.
Please ALWAYS ask permission if you may post a flyer before you do it!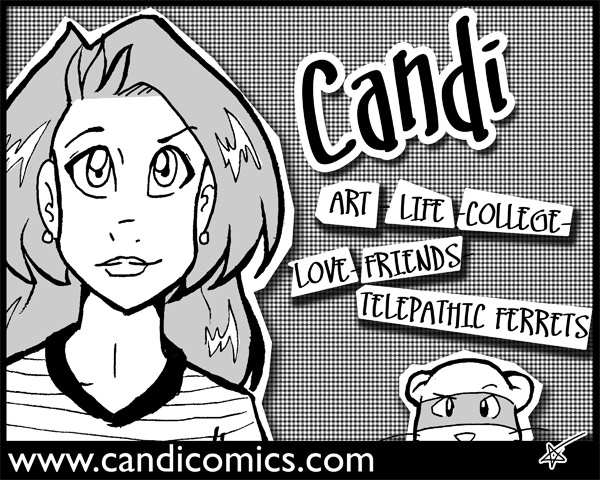 If the font changes when you download it, you can get it for free here- http://abstractfonts.com/search/swingset